Quinceaneras in Houston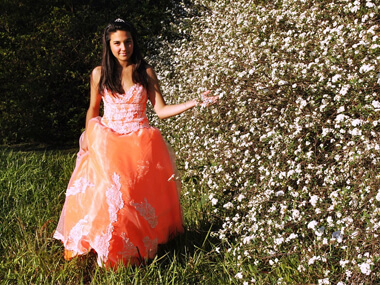 Quinceaneras are extremely important events in a young girls life! As a celebration of a girl's fifteenth birthday in parts of Latin America and communities across the world, this is a mark of growing up. A marking of the transition from childhood to womanhood, this is a very festive time to be celebrated. There is a lot of dancing, great food, and candle lighting during these ceremonies which makes for poignant memories for the whole family to look back fondly on. With a bit of planning, you're sure to plan the perfect Quinceanera for your daughter, and we're here to help you accomplish that.
Have you ever thought about a Houston party bus for your daughters Quinceanera? After all, this is a time to be celebrated in style, and a party bus in Houston will help you accomplish just that. There's nothing better than a luxurious mode of transportation such as a party bus to make more a memorable Quinceanera. Everybody will have a great time when you're celebrating inside one of the highest quality vehicles in the Houston area. In fact, you're guaranteed to host a Quinceanera that goes down in history with a party bus for your transportation!
There are many positives to renting a party bus in Houston for your Quinceanera. After all, this is a celebration of the young lady in your life, and she deserves the best. With a party bus, there will be ample space for her gorgeous gown, and she'll even be able to dance around in the spacious interior. Teenagers absolutely love our party buses for Quinceaneras because they're outfitted with flashy amenities and a polished exterior that will be turning everybody's heads! All it takes is a look inside the interior of our Houston party buses to see what all of the hype is about.
Our party buses in Houston are world class vehicles that can't be reproduced by competitors! Our party buses have impressive interiors that include color changing mood lighting throughout all of the surfaces, fantastic bar areas that come stocked with ice for your convenience, chrome dancing poles, crystal clear televisions with DVD players for your entertainment, newly installed hardwood flooring for dancing, MP3 capable sound systems, privacy tinted windows, high quality leather perimeter seating, and more! With all of these deluxe amenities, it's not hard to see why Party Bus Houston has the best vehicles in the area.
It's easy to see why a Houston party bus will make a worthwhile addition to your family's next Quinceanera. You'll be left with one of the happiest birthday girls ever, which is truly worth the price that you pay for the professional transportation. Speaking of price, you certainly won't break the bank deciding to go with Party Bus Houston for your Quinceanera transportation. This is one of the top reasons why you should consider renting with us, as our prices matched with the quality of our vehicles makes for a deal that simply cannot be beat. We look forward to providing service to your Houston Quinceanera.