Corporate Events in Houston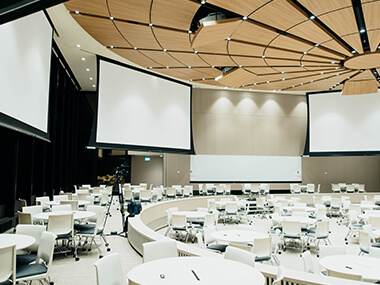 We are home to one of the top economic centers in the United States, so naturally, this city is home to a lot of businesses! With a great selection of both corporations and small businesses, it's safe to say the Houston is home to a lot of employees. Some of those employees are bound to be planning corporate events, and we're here to provide transportation to all of them. With so many opportunities for networking and building a positive reputation in the business world, it's certainly a smart idea to go above and beyond when it comes to decisions concerning your career.
Are you in charge of planning a corporate event, or perhaps the annual office party? No matter what your duties consist of or what it is that you're planning, you can certainly benefit with professional transportation for your corporate event in Houston. Your corporate event will undoubtedly run smoothly when you have seamless transportation! The office party will be more fun than you could ever imagine with a Houston party bus, and you will certainly make the best first impression on potential clients showing up in a luxury limousine bus to pick them up in. No matter which way you look at it, you're sure to benefit from a Party Bus Houston rental.
Party Bus Houston works hard day in and day out to bring you a professional transportation service that's fitting for all types of events and purposes. Although party buses are usually reserved for crazy events, they're also fantastic for elegant and professional itineraries as well. With a party bus, your potential clients will see that you take business seriously, leaving you with a better chance to make that deal! Your office will definitely get a boost of morale and productivity after an amazing party bus adventure, and what could be better for business than that?
Our party buses have the features and amenities to make the right first impression! You're guaranteed to have a successful night in our amazing vehicles. They come with professional stripper poles, newly installed wraparound leather seating, polished hardwood flooring, tinted windows for privacy, bars complete with coolers and ice, strobe neon lighting, televisions with entertaining DVD players, subwoofer equipped stereo systems that are MP3 capable, and so much more. There's nothing better than our party buses on the market, especially when it comes to the quality of features inside our amazing party buses. There's no better choice for your Houston corporate event!
Call us today to set up your corporate event in Houston. The reservation process is simple, quick, and easy, leaving you with a night of professional fun. Your office party will go down in history as the best ever, and when the clients decide to use your services, you can owe it to yourself for completing the reservation. No matter which what you look at it, reserving a party bus with Party Bus Houston is the best possible idea for your corporate event. We're glad to be of service to our cities business leaders!