Parades & Festivals in Houston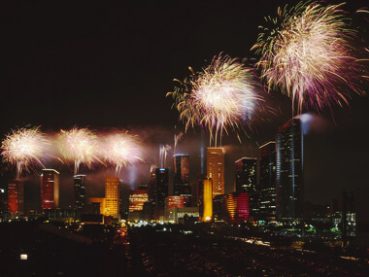 What a fantastic city to reside in, as well as a vacation spot. Home to many different cultural institutions and exhibits, you'll find many tourists flocking to Houston to get a taste of the diversity here. There's always something to do in Houston from amazing music festivals to attending one of the many parades or community celebrations that happen annually here. Filled to the brim with different activities for different interests, you're sure to have an entertaining time when you attend one of the amazing parades or festivals here. We can't recommend them enough, as they feature all of the best things in Houston!
Be sure to check out the annual Bayou City Art Festival, Houston Art Car Parade, Annual Art Crawl, Suto Show, Egyptian Festival, Greek Festival, International I-Fest, Japan Festival, Gay and Lesbian Film Festival, Gay Pride Parade, International Quilt Festival, as well as the Texas Renaissance Festival. You're sure to have a blast visiting any of these fantastic events! They combine delicious food, cultures from around the world, shopping, good weather and great company all into one. There's no better way to build a sense of community with the city you're in than by attending all of the annual parades and festivals. You certainly can't go wrong with any of these options!
When you decide to attend one of these events while you're in Houston, be sure to consider how you'll get there and back! Of course, there's always the option of driving yourself, but who wants to do that? There's always heavy traffic as well as road closures when these events happen, and you can avoid dealing with the chaos with a party bus rental. Plus, you'll certainly want to drink without worries of who will be the designated driver! Party Bus Houston has a fleet of party buses in Houston to make all of your festival and parade experiences the absolute best that they can be.
Our party buses come with all of the features you expect from professional party vehicles! We're able to provide the best transportation experience by outfitting our party buses with all of the latest features. You're guaranteed to enjoy our couch style leather perimeter seating, newly installed modern televisions with DVD/Blue Ray players, ice filled bar areas for drinks, exotic hardwood flooring, nightclub style lighting, iPod capable sound systems with subwoofers, privacy windows, dancing poles, ect! With all of these features, it's easy to see why we're the top provider of party buses in Houston.
Reserving your Houston party bus is easy as ever! All you have to do is pick the one you like best and give our booking agents a call. You'll have your feature filled party bus all reserved for your parade or festival experience, leaving you with endless possibilities for fun in Houston. We're happy to make your parade and festival experience one to remember for the rest of your days, just give us a call to get everything started. Our party buses go fast, so worry!