Tours in Houston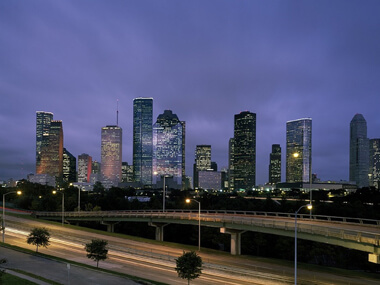 Houston is certainly a charming city to visit and live in. Being the largest city in the state of Texas, you can bet that there's a lot happening here! With a strong economy, growing international community, fantastic nightlife, and many different entertainment districts to bask in, it's no wonder why Houston brings in millions upon millions of tourists each and every year. There's so much to see and do in Houston, from the amazing shopping and restaurants, to educational institutions for the whole family to enjoy. You're certain to enjoy your stay in Houston, no matter what that visit consists of.
You can't go wrong with a visit to the Theater District in Houston. Right in the center of Downtown, you'll find fantastic entertainment complexes, restaurants, movies, plazas, and parks here. The Bayou Music Center stages live concerts, plays, and comedies throughout the week, making for a great place to spend a night out. The infamous Space Center Houston is the visitors center of the famous institution with interactive space exhibits that the whole family can enjoy. Paired with all of the amazing museums and galleries, Houston is a great place to get your fill of the arts and science.
Not only is Houston filled with amazing spots for education and knowledge, but Houston is also home to a staggering number of 337 parks! In fact, Houston has the most total area of parks and green spaces in the country. Speaking of recreational activities, you can't go wrong with attending a sporting event while you're here in Houston. No matter what it is you end up doing for fun while you're in the city, you'll certainly want to consider renting a party bus for a sightseeing tour of Houston you won't soon forget. Our party buses in Houston will have you looking at the city like you never have before!
When you have a party bus for your sightseeing tour in Houston, you're guaranteed to have an amazing time. We're happy to adhere to your schedule or recommend places to go if you're not sure. With all of the features that come with our party buses, you'll feel like a celebrity as you view all of the sights from the luxurious cabin of a opulent party bus. You're guaranteed to enjoy the polished hardwood flooring, amazing leather seating, neon strobe lighting, ice filled bar areas with coolers, plasma televisions with DVD players, stripper poles, tinted windows, MP3 capable sound systems, and much more.
With all of these features, you and your friends and family can enjoy drinks while you view Houston from our party bus! Feel free to dance the night away as our professional chauffeur shows you everything there is to love about Houston. There isn't another company in the area providing the quality of service that you'll find at Party Bus Houston, so give us a call when you're ready to book your party bus. Our booking agents are here around the clock to provide you with amazing customer service. We look forward to speaking with you!